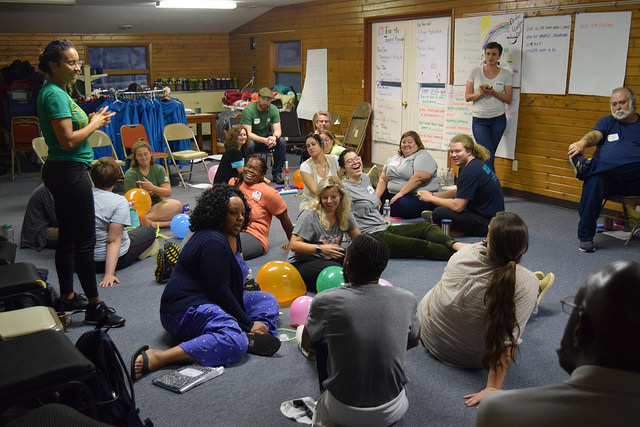 How to Teach Strategy
Part of the West Virginia Trainers Project
April 5th-7th, 2018 – Tygart Lake State Park, WV
This workshop is a chance for West Virginia Training for Trainer graduates to continue to grow their toolboxes. Participants will have the chance to learn frameworks for helping groups think strategically, as well as tools for facilitating those groups make strategic decisions together.
This workshop is only available to West Virginia-based applicants who have completed the West Virginia Training for Trainer workshop.
Participants in this summer workshop will
Grow their experiential education toolboxes, especially with regard to teaching strategy
Learn and practice approaches for facilitating group decision-making
Gain greater awareness about themselves and their strengths as a facilitators
Get a chance to take risks, experiment and refine skills in a safe and supportive environment
Receive personal guidance from experienced trainers in a small group setting
Who should apply?
This workshop is open to all West Virginia Training for Trainers graduates. We especially encourage low-income organizers, organizers of color, organizers in their teens and 20s and gender non-conforming organizers to apply.
We also encourage participants to apply with someone they work or volunteer with. We have found that when participants attend in teams, they're able to better apply the skills and frameworks they learn when they return home.
Finally, this workshop is full of chances to practice group process design and facilitation concepts for your home context. Organizers who are actively working with a group will get more out of the event.
Workshop format
The workshop begins with dinner and registration at 6PM on Friday and runs until 6PM Sunday. The workshop hours for each day are as follows:
Friday–start 6PM, end between 9PM and 10PM, dinner provided
Saturday–start 9AM, end between 9PM and 10PM, breakfast, lunch and dinner provided
Sunday–start 9AM, end by 6PM, breakfast and lunch provided
Though the hours of this workshop are long, we've found that the experiential style helps keep people engaged, alert and energized through our time together. We also provide time for short and extended breaks within the agenda and encourage participants to take care of themselves so that they can stay fully present.
The workshop is designed as an experiential package with each session building on the previous session. We want to create the best learning environment possible for participants to absorb the combined learning of each session and therefore WE DO NOT ALLOW PARTIAL ATTENDANCE; you must commit to taking the entire workshop.
Throughout the workshop there are multiple opportunities for discussion about specific questions or challenges that you may want to explore. This is a fun but rigorous workshop and as participants stretch themselves to become better trainers, strong emotions can surface. We do our best to support you to take care of yourself in this workshop and get the most learning out of challenging moments.
How much does it cost?
This 2.5 day workshop has a sliding scale fee of $100-$400 based on income and ability to pay. This fee covers lodging, six workshop meals, and materials. Full scholarships are available on a needs-basis.
Things to know before you apply
Due to the level of interest in this training opportunity, we will not be able to accept more than 3 participants per organization in this session. We will ask groups with more than 3 applicants to help us choose their ideal team. Future trainings will be available.
This training will be most useful to participants who are currently training and facilitating with a group or with multiple groups.
[google-translator]